Thank you for all of your lovely comments for last weeks tutorial and the storage, I think Tesco will be running out of CD boxes very soon, I know that I have bought mine and love it.
This week we have a fab tutorial from
Sue
but before we begin lets see who has won a collection of gorgeous images from
Lily-Boo's Boutique
. Drum roll please, the lucky winner is…………………
Congratulations could you please contact Debbi for your prize :)
This weeks sponsor is "Fred She Said" and the prize is some fabulous images, all you need to do is leave a comment on this post and you will be entered into the draw, which will be randomly chosen.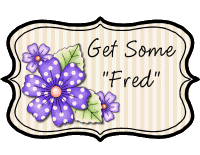 Sue's Tutorial - Emma in the Strawberry Patch
This weeks sponsor is Tracy from
"Fred She Said"
when I told Tracy that my theme for this week was Strawberries and Cream she said she would do me a special image and wow what an image it is she is called "Emma in the Strawberry Patch" and she is just too cute. I just hope I have done her justice. Click photos for a closer look
Skin
I have used oatmeal around the hairline and soft peach on the cheeks and then blended together with blush all over in a circular motion.
Dress
This time I have used orchid all over then used amethyst in the creases or in the shadow and again blended together with the orchid all over. I try and keep the pen on the papers when I am blending the two colours together and on this one I have blended over the dress twice for depth of colour.
Strawberries
I have used berry red for the strawberries and bright green for the leave I have also used a little bright green on the berries to add shadow.
Petticoat and t-shirt
This may be a little difficult to see but I wanted the petticoat and t-shirt to be white so I have just used a little ice grey 1 and then blended with the blender pen.
Strawberry patch and ground
I have used berry red for the berries bright green for the leaves and sunflower yellow for the flowers, I have then used meadow green to all over to tone the other colours down and colour the rest of the area. I have used ice grey 1&2 for the area around her feet.
Hair
I wanted Emma to be a red head so I have laid henna and burnt orange down as shown in the first image and then blended together with terracotta.
Basket
The colours for the basket are apricot and terracotta
Highlighting
And here she is all ready to make into a card for Tuesday the image on the right hand side has been high-lighted with a little gelly roll white highlighter pen to give it a little lift. Hope you enjoyed this and good luck in the draw. Thanks for looking Sue :o)
I think you will all agree Sue has done a fab job :)
Now we have had quite a few emails asking about the PDF files, don't worry they have not vanished forever, they just take up quite a bit of time of which Debbi has none at the moment so please bear with us and they will be up and running soon :)
Don't forget to leave a comment for the chance to win some gorgeous images.
See you all Tuesday for the next challenge and keep an eye out in a few weeks for the new DT announcement and we also have a few more surprises in store too
Have a great weekend
Hugs Gina, Denise and DT xxx